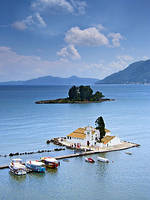 Sidari Reviews
---
Places to Visit
---
Corfu Guide
---
Local Directory
---
Corfu Maps


Joylife Apartments

(Accommodation in Sidari)

10/10
Alison L

hi makis

love to hear from you both you only live about 60 miles away from us

alison
Makis A

hello alison,of course i do remember all of you,i'm very sorry to hear that,my heart goes out to you

i live permenantly in leicester now with my girlfriend hayley,we bought our own house last year.again i'm terribly sorry for your loss
9/10
Makis A

i worked at joylife from may to october 2004,i met so many people,it was a great experience despite th fact that i was doing 16 hour shifts,the owners treated me like i was family and i thank them for that,i would also like to say a massive thank you to everyone who thought that i did a good job,i loved every minute of it!i live permenantly in england now
10/10
Alison L

We used to stay here now its all inclusive I went up to see the owners and once again they have spent a lot of money doing things up .With what I saw it looks great

alison

Rose G

I've just come back from a week long stay at the joylife apartments....was so sad to come home

Me and my mum traveled there on our own and it was the first time i have been on holiday without my family. The staff could not have been more welcoming and our apartment was lovely. We were near the pool but our balcony faced away from the main hotel so we had lots of privacy. The only complaint me and my mum could make about the apartments was that sheets and towels were not changed, but i dear say if we repeatedly asked the sheets would be chagned.

The pool was lovely and over 7 feet deep and the shallower pool was perfect for smaller children. I cannot make a reveiw without making a comment about the food which was deliciousand cheap !! Its more the staff at the hotel that make the holiday, they were charming i would definatly go back

Helen S
Just got back from 2 weeks in lovely sidari and we had a great time. We had a studio overlooking the pool but it was so dirty and smelt because we were situated above the toilets! Hardly ever saw the maid and beds and towels were only changed once. It was absolutly boiling hot in there as well, we didnt know that you could pay for air conditioning until the last day of our holiday!

Dont let that put you off though, the pools were the best, lovely and quiet to relax around in the day and the bar is great. The foods nice and pretty cheap as well so we ate in there alot. The greek night on which is on every wed night was good. Didnt get much food for the amount you pay though. The bar staff are so friendly and will do anything for you

WE LOVE YANNIS!!

There is a supermarket a 5 min walk out and to your left (they dont sell papers so its a further 15 min if you want to catch up on the news). The town centre is about a 25 min stroll which is excrutiating in the heat of the day but nice in the evening as the suns going down. Watch out for the traffic - the roads a deathtrap in some places. Taxis speed up and down and there is no path to walk on!

For the canal damour take a left at the 3 little pigs and cross over the river (absolutly stinks so hold your nose) For sidari town keep going straight down - you pass the main beach on the way.

We will be going back to sidari in the future. Would like to st ay somewhere closer to the resort though. Definatly be going back to see yannis and the guys at joylife

Alison L

I HAVE NOTHING BUT PRAISE FOR THESE APARTMENTS .THEY LET MY MUM GO WITH HER OXYGEN MACHINE AND NEVER COMPLAINED ABOUT THE ELECTRICITY .MY MUM HAS SINCED PASSED AWAY BUT HAD 2 GREAT HOLIDAYS THANKS TO THEM WHEN NO ONE ELSE WOULD HELP.

Carlie N

We visited Joylife in Auguest 2005. We had a brilliant time in sidari with lots to do day and night.

The apartments are about 25 mins walk to centre and besch. This could be a pain especially in the heat! If we were to visit Sidari again i would certainly look for a more central location!!

The pool and pool bar were fine and staff were pleasent. However again a larger pool would be better. The apartements could do with a good clean. Our apartment was spacious and over looked the pool, however it was dirty and the cleaning service provided was wll below expectations.

We met some great people but i must say there were alot of LOUD english people round the pool which made it hard to relax at times.

My recommendations would be to find a hotel closer to the beach and esort centre. Also i think a week is long enough as there are only a hand full of nice places to eat and drink.

It was great for our first holiday but we hope to move onwards and upwards!!

Amy C

The one bedroom apartment which we had was really big with two sofas in the living area along with the usual kitchen appliances. The bathroom is a good size with a shower. The bedroom had two single beds, dressing table, wardrobe and two bedside cabinets. Probably one of the biggest rooms i've ever had in a greek apartment. The only bad thing about the room we were in was that the air con was only in the living area, not to good at night.
Alison L

In the one bedded apartment we had and my parents there where two sofa beds in the kitchen we found them very spacious but just depends which apartment you get

Alison
Leanne D

joylife appartment in sidari is great i found it reli easy 2 find something to do i loved the pools u had n da bar
Leanne D

hello all i have to say about sidari is keep it up it is a great place i can not wait till i go back in july missin it except 4 da dogs theres loads of them i love sidari xxleannexx
Leanne D

i loved goin 2 sadiar n stayin in ur appartment it was a realy good place i can not wait untill i go again xxleannexx
Paul

five of us stayed at joylife it was great, we all enjoyed it people were great, pools good (could do with a clean) the appartments could do with a mop over the floor ,apart from that ok,we went there august 2005 and were going there august 2006 so it cannot be that bad ,the dog smell has gone so dont worry about that, you could not smell it from joylife (unless you got a big and i mean big nose) we are all looking forward to our holiday to joylife because its a great place to go and good for kids and plenty to do
Louisa W

I went on holiday and stayed in the joylife apartments, absolutly loved it, planning on going back sometime!
Alison L
Just thought I would say Makis is living with an English girl now doesnt work at Joylife no more came to see us while we where there but the new lad Jannis is brillant cant do enough for you and he is a great laugh
Gary
had a fantastic time yani is a good laugh
Pamela G

Hi im pam and i went to sidari this time last year(aug-sept 04) for a week with my two friends. we had an absolutley brilliant time!!! we originally thought that the apartments were lovely but too far away from the centre and the clubs...However... it turned out that that was the best thing as we got the peace and quiet in the day to sunbathe and then the great nightlife in the evening!!!

The apartment was basic but fine and the pool was lovely!! Makis the waiter was fab and the crocodile he made me was great!!! i even hurt myself on holiday (i had torn my ligaments when i was drunk) and he was kind enough to bring me a cocktail to my balcony because i couldnt walk!!!

Overall we were very happy with the holiday and would definately go back again!!!!

Amy C

I have just returned from a 2 week stay at the joylife and had a fantastic time! The rooms were basic but clean. The staff and owners were very friendly esp Yanni who made our stay extremely enjoyable. The pool bar has a good variety of snacks reasonably priced. The pool is clean and there are plently of sunbeds. The joylife is quiet enough during the day to relax and we had no problems with noise on an evening. There is a supermarket less than a 5 min walk away which u will find everything you need without having to walk into the main resort. We didnt find the walk in to the town a particular problem as long as you are aware of the traffic, it is about 25 mins into the resort center and a torch is useful for the walk back to the apartments at night. I hope everyone who goes to the Joylife has a fantastic time like we did!

Gill W

I was surprised to last the last comments on Joylife as I've stayed there many times over the years - last time being June 2004. As Shaun's recent update photos show Joylife has been extended, new apartments built, has a lovely pool area and a gorgeous bar and dining area. I find the location fine - although I must admit I preferred the view of fields opposite instead of the large hotel, but the tourist industry and companies must take responsibility for that. The walk into Sidari takes about 20 mins but there is an easy alternative of ringing for taxis which come almost immediately and cost about 5 euros.

As regards cleanliness, I can only assume that Andy and Jo were very unlucky as I have always found that towels and bedding were changed as in any other accommodation in Sidari, toilets certainly cleaned every day and I have never seen mildew on the walls.

I don't consider myself to be narrow minded or wanting to sit in "little micro-Britain" - in fact I've learnt Greek so I can talk with my friends in Sidari/Avliotes/San Stefanos and like to spend as much time as I can comparing lifestyles and learning about a different culture. As for sitting around the pool - I feel that people have saved all year and are entitled to spend their holiday as they wish!

I hope everyone who has booked for Joylife enjoys it as much as I always have and I look forward to see the owners (Zoe, Kostas and Spiros) in 6 weeks.

Andy&jo B

Having stayed at Joylife, I can't stand the drivel some people put on this website.

The location was poor. No wonder Kosmar won't put it on a map. The only 'interesting' thing about the walk into town was the dead dog smell half way there, and it really was dead. And smelly.

Cleaning. Or lack of it. Towels only changed once. I mean, they MADE the beds a couple of times, but that doesn't make you feel like they've mopped the floors, cleaned the toilets, scraped the mildew off the walls or maybe even swept. Cos they didn't. Ever.

Other than that, it's OK. If you want to be narrow minded and sit round a pool all day. And sit in your own little micro-Britain, tis fine.

Don't let us put you off Sidari, however, because the centre is lovely and we shall be back!

GOOD LUCK!!!

G
Shaun

Check my site out for pics of Joyife have stayed and really enjoyed

Alison L

Hi Sharon Or Greek Lady what ever you want to call yourself NO I DONT OWN THE JOYLIFE I TELL AS I SEE .

we have just got back from a brillant 2 weeks again the rep of course you have no idea this year its is a brillant young lady called Lindz ,My mum is on oxygen 20hrs a day and all the staff (ALL) have helped to make my mums holiday has pleasant has it could be ,last night we had to vacant our room at 6.00pm they let my mum stay longer when it was time for her to leave the room she said because her machine was noisey she would sit in the hall way Spiros said no way he moved her with everyone else ,the joylife was full this last 2 weeks and for many more weeks and all i can say we had a brillant time with the other guests.

I would like to also say Zoe And her family have been brillant letting my mum go with her Oxygen machine in britain she cant go on a train ferry or bus.

AND SHARON OR GREEK LADYWHAT EVER YOU WANT TO CALL YOURSELF GROW UP AS YOU HAVE SAID IT FOR POSITIVES AND NEGATIVES

Can U Help?
Paul D
has anyone got any pictures of joylife apartments on the inside thankyou
Alison L

Looking at your pictures Shaun has got me excited we go 2 weeks on Friday it will be our 2nd and my parents 3rd my mum is really ill and has to have oxygen Costa is brillant with her i know last year where my mum was sat a family wanted to sit there but it was the only place my mum could sit with her oxygen so the family asked them to move my mum but they wouldnt the other guest where mad at the family not my mum or Costa
| | |
| --- | --- |
| Search for Joylife Apartments in all of JustCorfu | |
More Hotels and Apartments in Sidari...

ABC Sweet Home | Akis Apartments | Aleka | Alexander Apartments | Alexandra Apartments | Alexia Palm Grove | Alexis Pool Studios | Alkyon Hotel | Anemona Studios | Angela | Angelika Maisonettes | Angeliki | Angelinas Hotel | Anna Apartments | Areti and Terri Apartments | Aspasia | Astoria Hotel | Atki Aphrodite Hotel | Beach Star Hotel | Bertos Studios | Billy and Sandra Apts | Blue Sky Apartments | Canal D Amour Hotel (Christos Apts) | Chiara Apartments | Christakis Hotel | Christina Apartments | Chrysanthy Apartments | Clio Apartments | Corfu Andromeda Hotel | Cresta Apartments | Damia Hotel | Demis Apartments | Denise Apartments | Dimitra Studios | Dimitris Apartments | Dinos Apartments | Dionyssos Pension | Ektor Apartments | Elena Apartments | Eleni Apartments | Elisa Studios | Elli and Maria Apartments | Elpida Apartments | Esperides Studios | Felira Apartments | Fig Tree | Fontas Apartments | Garnavos Apartments | Gela Apartments | George Apartments | Goudelis Apartments | Grigoris | Haroula Apartments | Hawaii Apartments | Itanos Apartments | Jimmys Hotel | Joylife Apartments | Kanali Aparthotel | Kasimis Apartments | Katerina Apartments | Katsaros Apartments | Ketty Studios | Kolones Apartments | Konstantina Apartments | Kourhos Apartments | Koursaros Apartments | Lagoon Studios | Leandros Apartments | Lefka Apartments | Legends Apartments | Lena Studios | Leos Apartments | Lia | Louisa Apartments | Loula Studios | Louvros Apartments | Loxides Apartments | Macedonia Studios | Maria Apartments | Mariana Apartments | Marilena Apartments | Marilyn Apartments | Marina Studios | Mary Apartments | Mega Idri Apartments | Mimosa Hotel | Monika Aparthotel | Mouzakitis Apartments | Nicos Apartments | Nosta Apartments | Oassis Apartments | Olga Apartments | Olive Grove Studios | Orestis Apartments | Ostria Apartments | Othonas Apartments | Palm Grove Apartments | Palma Corfu Apts | Panorama Sidari Village | Paradise Hotel | Perros Apartments | Petrakis Apartments | Polixenia Apartments | Potamos Apartments | Rebeccas Villiage | San George Apartments | Sani Corfu Apartments | Scorpios I Apartments | Sellas Hotel | Sidari Beach Hotel | Sidari Waterpark Hotel | Socrates Apartments | Spiradoula Apartments | Spiros Apartments | Stamatis | Stema Studios | Summertime Hotel | Sunflower Apartments | Sunny Corfu Apts | Sunset Apartments | Sunshine Apartments | Takis Apartments | Target Apartments | Tassos | Terezas Hotel | Thanassis Apartments | Theodosia Complex | Three Brothers Hotel | Tina 1 and 11 Apartments | Tolis Apartments | Tondoris Apartments | Trivizas Apartments | Tzanetos Apartments | Varnava Apartments | Varvara Apartments | Vassilis | Vassilis II | Vasso Apartments | Venus Apartments | Villa Elina | Villa Emily | Waves Studios | Yannis II Hotel | Yiannis Village | Zafiris Hotel | Zotos Studios |