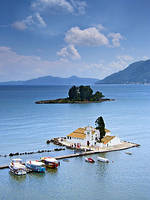 Roda Reviews
---
Places to Visit
---
Corfu Guide
---
Local Directory
---
Corfu Maps


Spingos Apartments

(Accommodation in Roda)

4/10
Diane L
Just returned from a week in the spingos apartments.Pretty basic to say the least. Bedding clean, but kitchen and bathroom leaves much to be desired!!!! Toilet flushed itself all night.!! Towels are more like floor cloths, we actually bought bath towels when we saw the state of the guest towels.Take a fan in high season and plenty of mosquito medication! Noisy from the bars but very close to the beach and centre of Roda.
J G
the reason its booked up is because Manos has had a fall out with the owners, next year - try Golden Sun brochure - the apartments should be in the brochure.
Bob W
Small, basic, but clean and well maintained. Far enough away from the Bars to be quiet at night. No pool, but you can use any in Roda so this wasn't a problem. 100 yards from the beach - if that!
Sandra M
I have stayed at the spingos on a few holidays and found that it is situated in just the right place. It was very clean and the lady who does the cleaning is very helpful and vary good at her job. The only thing i find wrong about the spingos is the fact that i cant get booked in this year as it is booked up.
| | |
| --- | --- |
| Search for Spingos Apartments in all of JustCorfu | |
More Hotels and Apartments in Roda...

Adrianna Apartments | Alexandros Apartments | Aliki Apartments | Amorosa Apartments | Antonio | Aphrodite Hotel | Arena Studios | Blue Gardens Apartments | Blue Lagoon Apartments | Christofis Studios | Coral Beach Hotel | Corfu Mirabell Hotel | Darmanies Studios | Elenitsa Studios | Elizabeth Apartments | Fiona Apartments | Gabriela Apartments | George Studios | Gregoris Studios | Katerina | Kosmas Apartments | Makis Apartments | Makris Apartments | Maritsas Apartments | Melinda Apartments | Meroulla Apartments | Metallinos Apartments | Michalakis | Milton Hotel | Mitsis Roda Beach Resort | Nassos Apartments | Nikos | Ninos on the Beach | Nymfes Studios | Panorama Studios | Paradise Village Apartments | Pegasus Hotel | Petros | Poseidon | Robertos I and II | Robolla Beach Aparthotel | Roda Beach Villiage | Roda Garden Village | Roda Inn Hotel | Roda Oasis Hotel | Rodafni Apartments | Silver Beach Hotel | Spingos Apartments | Spiros Apartments | Stathis | Stella Studios | Theodoros Apartments | Thimis Studios | Valentinos Apartments | Venus Apartments | Villa Marie Apartments | Yiannis Studios | Yiota Studios |