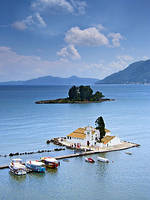 Kavos Reviews
---
Places to Visit
---
Corfu Guide
---
Local Directory
---
Corfu Maps


+ Enlarge Map
Elli Studios

(Accommodation in Kavos)

4/10
Lewis K
First Off Loved

Kavos

amazin party town, plan to move there next

Summer


However i shall stay clear of the elli Studio's for a few reasons,


No shower Curtain
Wasp infestation

Rude Owner (charges for any and everything "Toilet Paper")
Broken slats on beds

Stayed 10 nights cleaner only moped the floor didnt touch the beds
stained bed linen (upon arrival)

Here I enclose My review from another website to save myself time


I read allot of these reviews on different websites before i traveled to kavos and was looking forward to these apartments, i must say upon arrival sonny the owner was most friendly, however as the holiday went on i noticed that this hotel was not accommodating to the party animals as it is reviewed. three lads on a relaxing holiday with a bit of clubbing involved were not suited to Elli apartments the bathroom was disgusting with a damaged shower head that doesn't hang on the wall and shower head sprayed the whole room except you there is a lacking of shower curtain so the whole room literally floods. i addressed this with sonny who didnt want to understand of speak of this issue, later in the holiday we were informed that we may ask at the bar to borrow a mop and bucket to self mop the bathroom after we shower which we decided against as we would just let it drain down. the cleanliness of the room was poor with dust and dead bugs under the beds and the lack of sheets being changed we stayed for 10 nights and saw the cleaner twice both times at about 11am while we were sleeping off hangovers lol, my friends sheets had blood marks on one corner and was missing slats beneath the mattress, the main concern i had myself was the bugs that fly out of the air conditioning as this is a extra and a lot of guests don't purchase so is a wasp and bug nest, there was a wasp nest above our neighbors balcony, when the last couple days approach sonny starting trying to think of ways or charging extra (10 euros cos we used a/c during the night as well as daytime) (used a winter blanket as a cover to lay on in bed 25 euros) threatened to have us evicted from the room which ruined the last couple days as we were not confident our belongings were safe so had to carry all belongings with us at all times, i must say i liked Socrates as he would try to solve these problems that sonny had aggravated

10/10
Alex L
We spent 2 weeks at the Elli Apartments in July 2009. We are 4 four 20 year old girls.....and I can honestly say it was the best 2 weeks of our lives!! The hospitality from Sunny, Sox, Mario and even Alex (and all the ladies!!) was second to none! They were so welcoming,friendly and accommodating. Everything we asked for we got with a smile.....and that included food at 6 in the morning after a night out!! They are a great family and we genuinely felt part of that family!! So much so we were all in tears leaving!! The ONLY problem was it is about a ten minute walk from the strip of bars and clubs, which was fine when we were heading out but if anyone wanted to head home earlier on there on it was a little bit scary....that said the majority of the nights we all came home together and it was bright when we were too!! It was undoubtedly a trip we will remember (most of it anyway!!) for a loooooong time and a lot of that is due to the fun and hospitality we enjoyed in Elli.....Kavos 2009, a trip of a life time!!

10/10
Christine T

Just spent a week in Elli apartments Kavos , On first impressions ,Oh god what have I come to!! No shower curtain ,old tiles in bathroom ,beds like bunkbeds only one sheet, only one towel and mat ,the kitchen comprised of a sink ,fridge,2 ring hob ,ancient BUT, the hospitality of the owners Ellias(sonny) and Socrates(Sox) far outweighed any complaints that we were going to make. The pool area was great ,lovely bar ,the people were wonderful, didnt want to leave!!! They made us so welcome we felt like family from day one. The area is beautiful, lovely Taverna (the rose) just down the road , would reccommend to anybody . Had a fantastic time , cant wait to go back .

,

9/10
Jodie L

oh my god, have just returned from a weeks holiday in kavos and i can honestly say i am gutted to leave.

elli apartments are exactly what the comments say. yes the rooms are basic (very) small, there is no shower curtain so the floor floods but get over it. plus the people that own the place are absolute stars.

soc is a ledgend. he made the holiday worth while. mario is a little party animal... get him on a few head f**kers and he has the whole club dancing around him whilst he shakes a leg.. an sonny, well what can i say, he took some anger out on us but to make up for it offered us all a week for free.... just a shame we had to return for work.

hated the mutant wasps ... shame we went whilst it was the season for fruit (which they loved) but as long as you have a swatter near by or the local restuarant owner (rose taverna) you'll be fine.. kill kill. love it...

kavos is an ok town. clubs are the same everywhere but one i must recommend is crash... totally different music from the rest and the mc is quality.. stear clear from the pr's unless you know where you want to go then you can haggle them for extra drinks.

met some quality people out there too. all i can say is we will definatley be booking a holiday again to elli except this time i'm staying in an apartment and not a studio.. (you'll see what i mean if you go there)

plus if you are going to go when they have a heat wave.. please remember the sun cream.. i now have 3rd degree burns to prove that it's no pain no gain...

check out the pictures on facebook. search crash bar and you'll find some..

Ursula F

Kavos is Amazin!

Laura M

just back from kavos yesterday.

elli studios is a dead on wee place, tis very quiet but i like that cos its easy to get a sunbed and whatever!!

hello to soc and sonny and my lil princess gina!!!! mwahmwahmwah!!!

yeh, no shower curtains, but a towel is all you need to put on the floor... i usuually just held the shower head.

i totall recommended airconditioning!!

we stayed in number 13, and the right hand bed is broken if anyone is sleeping in it!!! it wasnt it¬!!

i would suggest hiring a lilo or sumthin to sleep on too cos the beda re very uncofortable.

no kettle either!!!

food is alright in the appartments, the chicken nuggets are nice!! best places to eat is the tex mex or rose taverna!!! the pizza place beside the apparentments are nice, check out the hot as hell waiter!!!!!!!!

dont forget insect repellent either!!!

bars wise... you must go to trinity.. and the rolling stone, altho dont drink the head f**ker, i did and broke my toe and dont remeber anything!!! the barn is really good too!!

pity about the prs they do my head in!!!

xxx

8/10
Julie T

Hey,

So...really don't understand what the guy below is complaining about. Yes, the rooms are basic, but you didn't come to Kavos to sit in your room.. Yes, there is no shower curtain...just like every other Greek Island property, it gets called a "shower room". Yes, there isn't much in the way of bowls etc...but why would you want to cook for yourself on holiday?? Eat out...I personally found the food to be lovely and I am usually very picky. Try The Rose Tree Tavern or the pizza place beside the apartements...also in town, Tex Mex, The Steak House and The Drunken Squid...i doubt you would be disappointed.

Anway, stayed here from 9th July to 23 July, had a great time and met loads of really nice people...hence the benefits of being in a small apartment block.

If you are still to go to Elli Studios look up the guestbook and under "Northern Ireland Crowd" you will find the most amazing drinking game ever...drunken effects guaranteed. :)

Julie xx

5/10
John B

ok straight up people this is what elli apartments is like... the rooms are average, the shower has no curtain but who cares just squat or somethin... its self-catering but comes with a lack of facilities e.g. bowls etc. the rooms are cleaned once a week (including bed sheets). the pool is good and the whole place is located in a good area right near the beach, with the walk to clubs/bars about 15 mins...

the owner of elli is a COMPLETE tosser (2 PUT IT MILDLY) and after making noise one night came up to me, grabbed my face and threatened to "change it".. nice. only when threatened by the head rep that he would lose business did he apologize. overall though its a good place 2 stay for gettin wot u want on a holiday like kavos... p.s. the food is a disgrace but theres a place not too far that does the greatest chicken sandwiches in the world, also there r supermarkets nearby. heccccccccctic

8/10
Hannah R

alrite peeps, just got back 4rm kavos stayed at the elli studios, it was proper wiked, wanna say a big ello to sock and gina :)

luv yaz

x

x

p.s if stayin at elli, take extra towels and a shower curtain!! lol
Chris W

Anyone got the address for Elli Studios???
Bethany G

heya everyone!!!!

me ne my best m8 hannah r going to the elli studios on the 16th of July for a week

just wondering if Kavos is any good?

Beth

xxx
Laura Q

hey everyone me and best m8 r stayin here on the 9th july for one week its gona be mad if ne1 going at the same time
hit me back check out myspace www.myspace.com/nutterlaus sums it up cant wait to gooo
Claire B

hey claire from carrick ere, top holiday! apartments r ok but sunny is a grumpy old f****r n he needs a personality transplant. wot ever u do dont walk on da grass or go near da pool at nite, he goes ape! the nitelife is class
Nicola C

Hi guys, Elli Studios was alright but the best things was me and my mates met a whole football team of fit blokes! We all went out and got totally drunk together, the blokes were the ones who ended up crawling back! Sunny was a bit moody - he even made us pay for our own toilet roll! It was brilliant, were gutted to be back but I'm keeping my football player!
The H

only a week and a half for us now ladies. what do your t-shirts look like.
Rach

no they dont hav air con!! we r takin a mini fan to plug in the wall! wen u going?
Can U Help?
Claire A
Do the rooms have air-con???

Moi

Hello there,

I have visited the Elli Studios on many occasions. So a bit of info for all going to Elli Studios this year, as I have noticed a few queries on the board.

Elli Studios are lovely basic self caterings apartments, with everything you need at hand. The people who run the bar are very happy, friendly, helpfull people. They will do there best to make your stay a good one. As you walk from Elli Studios towards the main strip, there are two roads you could take. If you take the road to the left, the first bars you come to are the Jazz and Twin bars. If you take the road to the right, one of the first bar you come to is Splash bar, near Chandris Supermarket and Apartments.

Go karting is about a 30 minute walk away, right through the main strip, and out the other side. There are sometimes reps on the main strip road side that will give you a lift down to the go-karting if you book with them.

So basically you are right at the bottom of the island. But it's nice and peacefull when you need it, but only about a 5-10 minute walk from the main strip, for those big nights out. It's also only a few minutes walk from the beach.

Enjoy your holiday!

You can't help but love the people who work at the Elli Studios.

Emma L
Pictures of the rooms:
Emma L

Me and 5 mates went went out 2 kavos last July and stayed in Elli studios... The rooms pretty basic but clean... Ideal for us anyway as we only slept, showered and got ready 2 go out in them... The pool area is nice and quiet through the day... The pool itself is very clean and big... The owners Benny and Sunny were just gr8... they were so welcoming and will look after your every need... Theres a snackbar thats open basically all the time... From the studios it was about 10/15 minute walk in2 main strip but once u got walking u was there in no time... There also located nicely as u dont get any noise from main strip when coming in on a nite... or infact during the day!! All in all kavos was r first girls holiday and we completely enjoyed it... Wud definately go agen and stay in elli studios... Booked for Malia this year so now just hope its as gud as kavos was!!

Lou

Heres Some pictures of elli studios:

[IMG]http://i44.photobucket.com/albums/f1/Loublou6/9e0e4f39.jpg[/IMG]

[IMG]http://i44.photobucket.com/albums/f1/Loublou6/c197d68d.jpg[/IMG]

Louise B

Went to Elli studios last July. The room was basic but clean, cleaner cleaned around us most mornings. The owners are really friendly and helpful, they were always available to cook or make you drinks (lots of which were free) The two dogs, gino and bruno are a bit mischevious and like to steal your flip flops but its a nice family run business. They made us feel really welcome and we were really sad to leave. We were a group of 6 girls from Yorkshire, many of the other people were couples and large groups of southern lads aged around 16-20. The appartments are about a 15 minute walk to kavos, which wasn't too bad unless it was really hot (on a night i'd get a taxi back as a couple of times we had to jump in a taxi or run back because we were being followed) the beach is a bit of a walk, but the hotel about 5mins away has excellent watersports. The apartments has a bar which has ice-creams, bottled drinks, 24hr bar,snacks (burgers, chips, fry-ups, toasties etc and if you ask theyll try their best to make you what you want). The pool is nice and theres always plenty of sunloungers. The pool was normally quiet, a couple of lads used to come from another hotel to use the pool as it was nicer than theirs. Kavos itself can be a bit rough, but is generally a good night with a wide range of music, we loved rolling stone. The PRs can be a bit annoyin and sumtimes nasty but just do y best to avoid them, however when u get there ull c how impossible this is(watch out for the PR's from memphis who pick you up n carry you in)

If you stay at Elli Studios you will have a really good time, Say Hi to them from us.

Michelle P

What can i say Ben and Elias are by far the nicest people u will meet they made us fill so welcomed. The bar is open 24 hours a day and Mario can cook a mean meal at silly hours of the morning, the rooms are basic but nice, the pool is open to late nite swimmers that went down a treat at 4am!

It's a 5 minute walk from the beach and 10 minute walk to the hustle n bustle

Me and my friend will be returning in the near future !!!!
Can U Help?
Ryan H
staying at elli studios on 1st august any one have any pics or info,
Tom F
Brilliant place! Good sized pool (the deep end was 8ft deep!), ample sun beds, nice and quiet, and about 20 mins walk to town to the hustle and bustle. The resort of Kavos is pretty unsuitable for families, though there were a few when i went. The bar is open 24/7 and the owner sleeps just 3 hours a day...he's a machine. The place is about 15 mins walk to the beach, and the food is pretty good - the decent cooked breakfast for 3 euros (£2.10) was eaten most days! Most people there were 19-25 year olds and generally from the North of England. Rooms were basic but nice. Not fantastically clean, but that's probably because we found a way of turning the key so the cleaner couldn't get in when we were asleep. Overall, a really nice place to stay! If you want a photo add me to msn at franco2000uk@hotmail.com and I'll send you one!
| | |
| --- | --- |
| Search for Elli Studios in all of JustCorfu | |
More Hotels and Apartments in Kavos...

Acrodelon Apartments | Agnes Studios | Alefki Apartments | Alexandra Apartments | Alkinos | Anneta Studios | Antony Apartments | Antouanetta I and II | Aphrodite Apartments | Aquis Capo Di Corfu | Armenos | Armenos II | Athina Apartments | Barbara Apartments | Beachfront Studios | Bella Vista Studios | Biscoutis Studios | Blue Sea Studios | Calypso Apartments | Captains Apartments | Caravel Apartments | Cavos Sea View Studios | Chandris Apartments | Chrysta Studios | Corfu San Marina | Corfu Sea Gardens | Courogianos Beach Club | Daskalos Apartments | Dora | Ekati Hotel | Elena Nikoletta Apartments | Elli Studios | Erofili Hotel | Forum Apartments | Georges Gardens Apartments | Hebe | Hercules Studios | Hermes Studios | Ionian Sea View Hotel | Isabella Apartments | Jessica Apartments | Kamini Apartments | Kara Apartments | Katerina Studios | Kavos Hotel | Kavos Plaza | Kavos Studios | Kelly Apartments | Konstantina Apartments | Kostas Studios | Koulouris Beach Aparthotel | Lefkimi Hotel | Lemon Grove Aparthotel | Lemon Grove Studios | Marina Beach Apartments | Mejanis Studios | Miami Seaview Apts | Morfeas Hotel | Mythos Annexe | Mythos Apartments | Natasha Studios | Nicos Club Studios | Nikas Complex | Nikos Apartments | Nokolas Club Apartments | Oasis Beach Club | Odysseus Apartments | Olive Grove Apartments | Olympion Village Apts | Oula Maisonettes | Pandis Rooms | Panela Hotel | Parakladi Apartments | Pavlos II Apartments | Penny Studios | Pergola Studios | Petrakis Studios | Rena Apartments | Roussos Beach Club | Sailors Apartments | Savvas Studios | Scrivas | Seaside Taverna Aparthotel | Sotiria Studios | Sotos Apartments | South Coast Apartments | Spinis Apartments | Stavros Apartments | Sunrise Apartments | Sweet Dreams Apartments | Takis Studios | Terrys III | Tropical Apartments | Umbrella Beach I and II | Veronica Studios | Virginia Studios | Yianetta Apartments |